SHELL AND TUBE FALLING FILM GRAPHITE ABSORBERS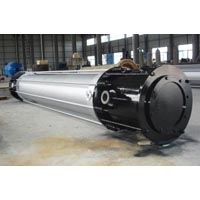 Shell and Tube Type Falling Film Graphite Absorbers
In fact, Falling film graphite absorbers seem like an vertical installed graphite heat exchanger, which consist of absorption liquid distributor, cooling and absorption section and gas-liquid separator.
- Absorption liquid distributor in graphite absorbers is for absorption liquid film forming and flow into absorption and cooling section.
- In cooling and absorption section, the gas is absorbed by absorption liquid. Synchronously the absorption heat is removed by cooling water.
- In gas-liquid separator, the unabsorbed tail gas is separated and inducted to downstream. The product drain from bottom nozzle.
With high efficiency in absorbing Hydrogen Chloride (HCl) gas, H2S, HF, SO2, NH3 gas, Graphite Absorbers convincing advantages is following: -
- High efficiency of absorption
- Low product temperature
- No need after-cooling
- Low pressure drop
- Wide operation flexibility
- Easy maintenance, long service life
On request, cooling and absorption section has two models basis on its heat transfer unit -Block Type Graphite Absorber and Shell and Tube Graphite Absorber.
Specification of Shell and Tube Graphite Falling Film Absorber:
- Max. Absorption area: 600 Sq. M
- Design temperature: -15 ~ 120 oC
- Design pressure: 0.3 MPa
- Tailor-made is available on request